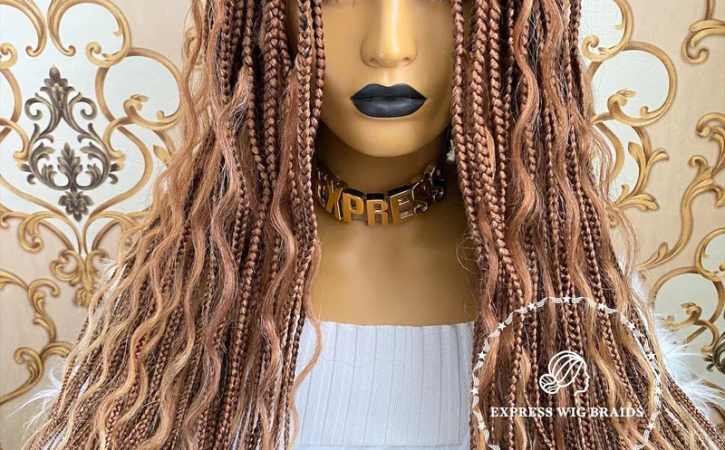 Braid wigs are a great way to switch up your look without having to commit to the time and cost of getting your own hair braided. Whether you're looking for a temporary style for a special occasion, or you want to try out a new look for a few days, braid wigs are the perfect solution. There are so many different kinds of braid wigs available, and each one offers something unique and stylish. In this blog post, we'll discuss four reasons why braid wigs are a great choice.
1) Protective Styles
Braided wigs are a great way to protect your natural hair while still having the freedom to switch up your look. Whether you choose to go with a traditional braid wig or a knotless braid wig, both offer an excellent protective style option. Traditional braid wigs feature pre-braided synthetic hair that is sewn onto a cap, whereas knotless braid wigs have a trackless foundation which requires the cornrow braids to be done directly on the scalp. Both styles provide coverage and protection from heat and daily wear and tear. The added bonus is that you can add accessories such as beads, bands and clips for additional styling options.
2) Saves Time
Braids and braided wigs are the perfect way to save time while still looking stylish. Braiding your own hair can take hours, and the time spent maintaining braids and box braids can be an unwelcome chore. A knotless braid wig is an easy way to get the look of braids without having to take the time to install or care for them. With a wig, all you need to do is simply style it and go! You don't have to worry about taking time to braid your hair or to deal with the upkeep, which saves you a lot of valuable time. Wearing a braid wig also means you don't have to spend time removing them – just take it off and that's it! If you're looking for a quick, easy, and low-maintenance hairstyle, then a knotless braid wig is definitely worth considering.
3) Low Maintenance
When it comes to low maintenance hair, nothing beats a braid wig. Not only are they lightweight and comfortable, but they are also easy to take care of. A knotless braid wig requires little styling and no hot tools, which makes it ideal for those who don't have time to spend hours in front of the mirror every morning. It's also a great way to give your natural hair a break from the heat, as well as protect it from breakage. For those who are looking for an easy, stress-free way to maintain their hairstyle without sacrificing style, a braid wig is the perfect choice.
4) Versatile
Braid wigs are extremely versatile and allow you to switch up your style. Knotless braid wigs come in a variety of textures, lengths, and styles. This means that you can create different looks with the same wig. For example, you could have a half-up/half-down look one day, and a sleek ponytail the next. You can also play with different colors, highlights, and accessorizing with clips or headbands to make your look unique. With a braid wig, the possibilities are endless!